Home
Services
Power Press Repairs & Rebuilding
Press Brake & Shear Repairs & Rebuilding
S.M. Fab Machinery, Machine Tools, etc.
Industry Links
Equipment For Sale
Recent Repairs & Rebuilds
Contract Machining
Facilities & Equipment
Authorized Distributor List
FSM Co. Sales Division
Company History
Contact Info

HOME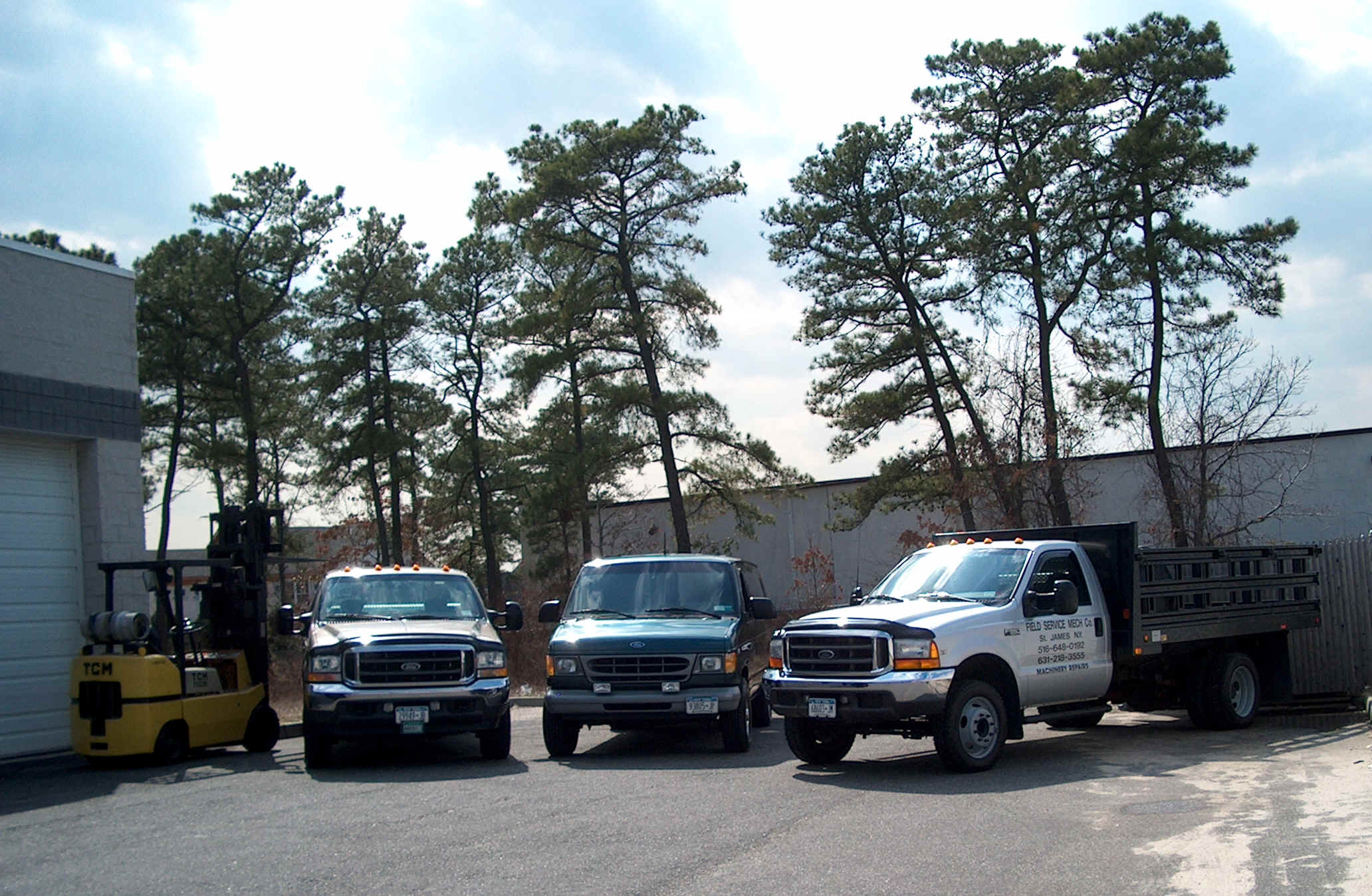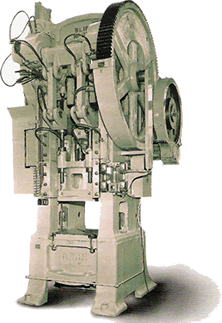 Bliss 4A toggle press
Field Service Mechanical Company History
The original founder of this company, Alvin Parker always believed that in order to repair any machinery problem, you need to know how the machine was built.
Our history takes our founder to downtown New York City, into Little Italy, where Al worked as a machinist for his uncle, Charles Salzberg whom owned and operated the biggest machine shop in Manhattan at that time. Learning all about the principles of machinery and being a young apprentice to his Uncle, Al soon grew to respect and understand the finer inner workings of all mechanics. As World War II started, Al went to serve his country and left his Uncle to only hope one day he would return.
While he was away, the United States Armed Forces were in high demand for all types of metal products from canteen's to bullet shell's. The only way they could keep up the supply, was to outsource to the public metalworking industries. With this came an even bigger demand to keep the machines needed to do these jobs, running! Therefore, Uncle Charlie was contracted to perform numerous repairs on all types of machinery all over the tri-state area. From presses, shears, press brakes, lathes, milling machines and more, there was nothing he wouldn't work on. Upon Al's completion of his tour of duty, he returned to his Uncle's shop and worked as a machinist and a mechanic doing all types of mechanical assemblies. In fact some years later Al even designed a quick release chuck for the tail stocks of his Uncle Charlie's brand of spinning lathes. Seeing the type of mechanic/machinist Al was, Uncle Charlie put him, as well as his co-worker Bernie, in charge of the machinery repair end of the business.
With a family on the way, in his free time Al starting working on board Navy vessels dry docked at the Brooklyn Navy Yard in New York repairing machine tools. In 1972 seeing his future in front of him, Al decided to form a new company, Field Service Mechanical Company, which would be dedicated to solely machinery repairs. This new venture expanded his ability to service the entire metal working industry.
Out of a small machine shop in Brooklyn, NY the ground work for the future of F.S.M. was laid. With his son Steven at his side, Al continued to satisfy all of his customer needs with top quality repairs and service. Steve soon saw the road his father paved and when Al retired in 1990, Steve continued on with Field Service Mechanical's tradition of unmatched quality machinery repairs, rebuilds and customer satisfaction business his father had built!
Now some years later, and after having moved the company into a bigger and more modern facility in Bohemia, New York on Long Island, Steve geared the shop with every machine tool needed to aid in our repairs as well as incorporating the special machine tools (i.e. planers, boring mills, etc.) that were becoming hard to find in the area but necessary to repair the machines and their parts back to the OEM specifications they are built with.
Steve's saying of "The right tool, for the right job" continues the companies tradition and commitment to quality. Now 3 generations old, Field Service Mechanical's expertise is unmatched with having the extensive knowledge needed to get your machines running "the right way, the first time." From stamping presses, shears, press brakes, conventional machine tools, machines for the HVAC sheet metal manufactures, hydraulics, pneumatics and pretty much everything else working with bearings, sprockets, pulleys, shafts, keys and more. Our fully insured family operated staff is available 24 hours a day, 7 days a week servicing the United States, Canada, Mexico, Puerto Rico, U.S. Virgin Islands and British Virgin Islands and has also continued to be the number one resource for machinery repairs in Long Island, NY and the metropolitan area as it has for the past 60 plus years!
Give us a call @ 631-218-3555 you may also contact our emergency voicemail service using the same number!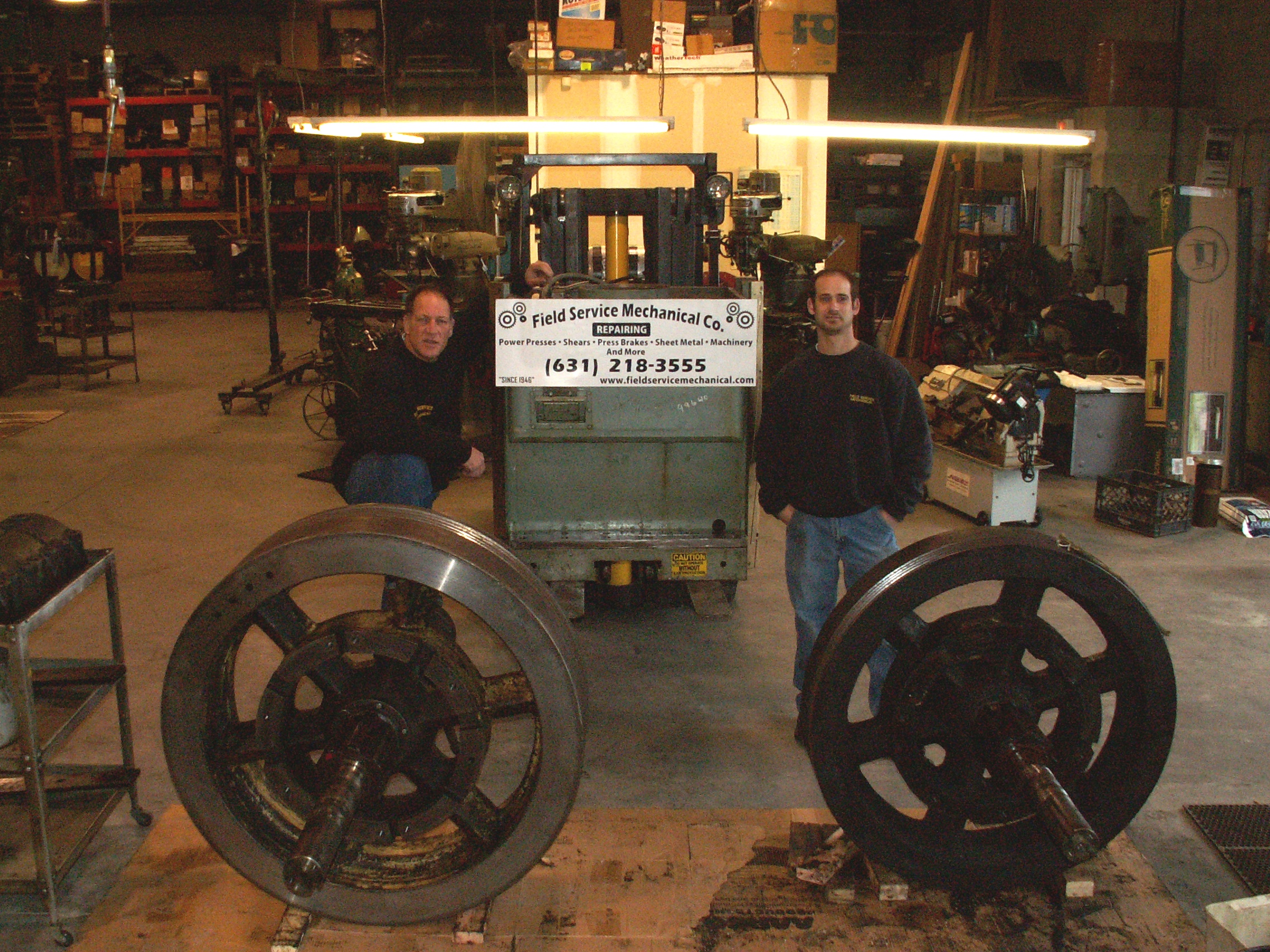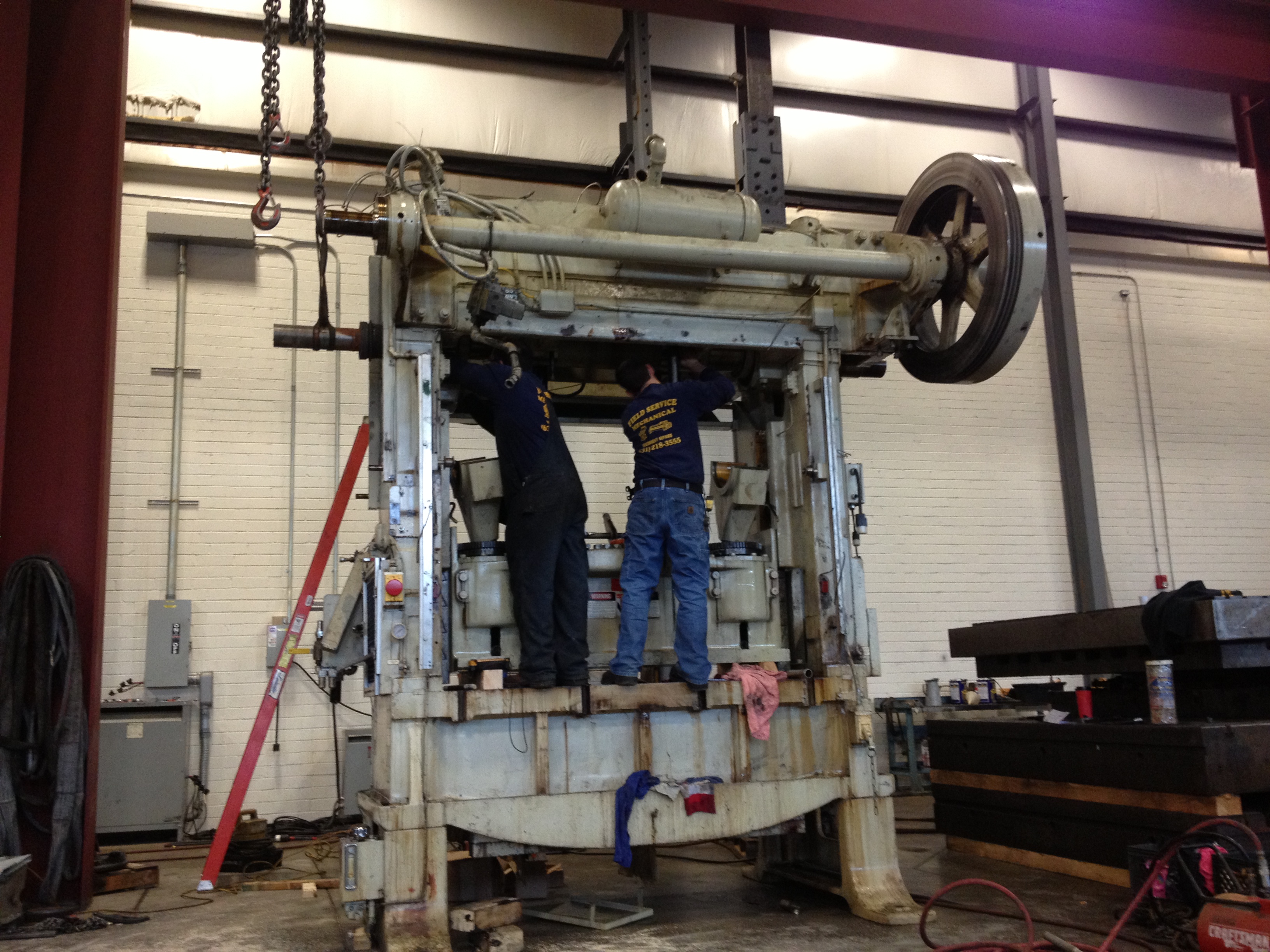 Marking the second and third generations of Field Service Mechanical
(Steven and Jared Parker pictured in front of two disassembled Bliss toggle press back-shaft units and standing in a 150 ton Bliss straight side press)